(JTA) — Three Palestinians were killed in clashes between rioters and police in Jerusalem and the West Bank over the Israeli government's decision to keep in place indefinitely metal detectors at the entrance to the Temple Mount, the Palestinian media reported.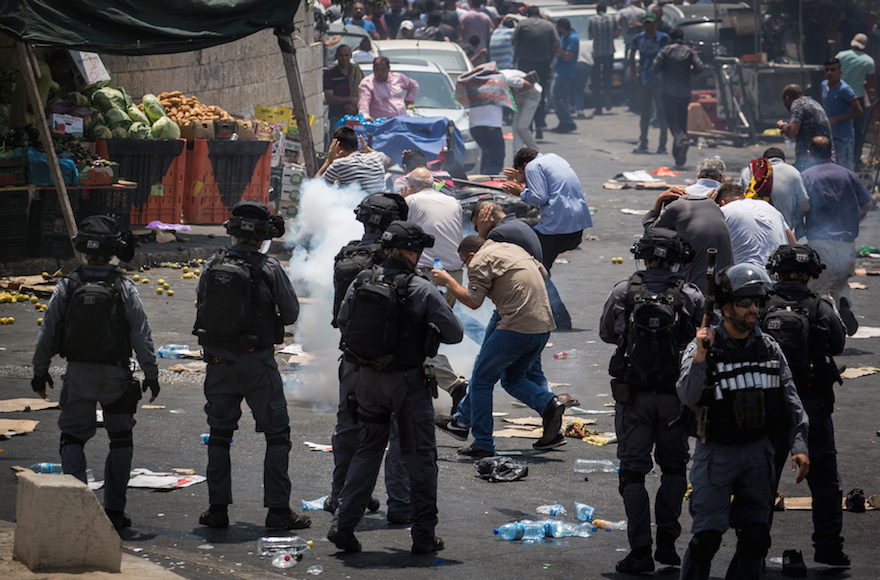 Thousands of Israeli soldiers and troops were deployed in eastern Jerusalem following riots Thursday, which resumed Friday afternoon, Israel's Channel 2 reported. Six police officers and an unknown number of rioters were injured Friday outside the Old City of Jerusalem, a spokesman for the Israel Police reportedly told the Palestinian Maan news agency. The police said they were not immediately aware of fatalities in clashes.
According to Maan, a 18-year-old from the eastern Jerusalem neighborhood of Silwan was shot in the neck. Another Palestinian died in the hospital from wounds he sustained during clashes in the a-Tur neighborhood of eastern Jerusalem. A third Palestinian sustained fatal injuries during a riot at the Abu-Dis village near Jerusalem, and later died of his wounds in a hospital in Ramallah, according to Maan. He was identified by local sources as 17-year-old Muhammad Mahmoud Khalaf.
Some 42 people were wounded in clashes Thursday night between security forces and Palestinian protesters, who rioted during rallies against the introduction of metal detectors last week, Army Radio reported…
readmore>>
jta
Also published on Fenixx.org
OtherSources; Haaretz>> Volkskrant>> nos>>
East Jerusalem: 3 Palestinians killed as clashes erupt against Temple Mount security measures
East Jerusalem: Palestinians clash with mounted Israeli police over Temple Mount security
Israel: Muslims protest against metal detectors at Jerusalem shrine