A passenger jet heading toward England was diverted to Germany on Saturday after three men on board were heard talking about terrorism, NBC News reported.
Authorities conducted the controlled detonation of a backpack as a precaution, police said.
Three men were detained after the easyJet flight from Slovenia's capital Ljubljana to London Stansted Airport made an unscheduled stop in Cologne, a spokesman for the German Nordrhein-Westfalen police said.
Passengers told staff they heard men were talking about terrorism, which lead to the stop in Germany.
---
German authorities free Britons detained after easyJet flight diverted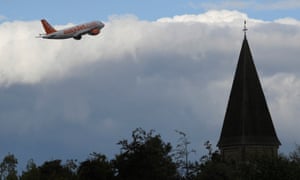 Three men who were held after passengers reported they were talking about 'terrorist matters' are released without charge.
German authorities have released without charge three British men detained in Germany late on Saturday after their conversations onboard an easyJet flight from Slovenia to London prompted the pilot to divert to Cologne.
"The criminal investigation against them has been halted. No evidence was found," a local police spokesman said. "We now believe that there was never any real danger."
Nine people received medical treatment after all 151 passengers were evacuated from the Airbus 319 aircraft using emergency slides.
It was not immediately clear when the men, who were returning to London after a business trip, would travel on to London. The remaining passengers had departed on another easyJet plane for London earlier on Sunday.
No comment was immediately available from easyJet.
The aircraft landed in Cologne on Saturday after passengers reported that the men were talking about "terrorist matters", according to the statement.
The trio – identified by Cologne police as British citizens aged 31, 38 and 48 – remained in custody. "The questioning of one of the flight passengers is currently ongoing", a spokesperson said.
In addition to the talk of "terrorist matters", witnesses had also noticed one of the three men carrying a book that pictured a precision rifle.
A backpack seized by German police and blown up outside the plane did not contain any explosives, a spokesperson said. Security staff had been alerted by "wirings" inside the bag…
readmore>>
guardian