Leerlingen die thuis een andere taal spreken dan Nederlands, mogen die ook gebruiken op de speelplaats en zelfs in de klas. Dat staat in een nieuwe leidraad waarmee het GO! dit schooljaar aan de slag gaat.
Het aantal anderstalige kinderen in ons onderwijs stijgt al jaren. Volgens cijfers van het Agentschap voor Onderwijsdiensten (Agodi) sprak een op de zes Vlaamse kinderen in 2016 thuis een andere taal dan het Nederlands.
De reactie van veel directeurs is om het gebruik van die vreemde talen te verbieden. Het gemeenschapsonderwijs (GO!) wil daar nu komaf mee maken. In een nieuwe leidraad, die het GO! in al zijn scholen verspreidt, staat dat directeurs positief moeten omspringen met de moedertaal, of die nu Spaans, Pools of Arabisch is.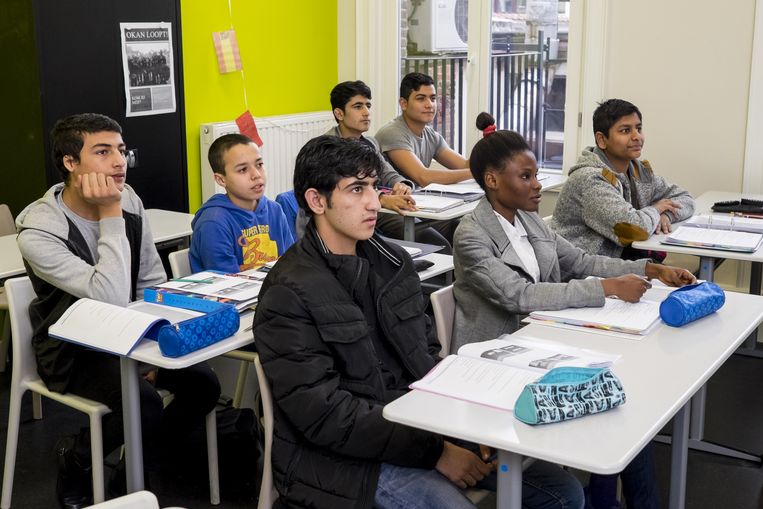 Want verbieden werkt contraproductief, klinkt het. 'Doordat we positiever omspringen met die talen voelen leerlingen zich beter op school en leggen ze ook makkelijker de brug naar het Nederlands', zegt Raymonda Verdyck, de topvrouw van het GO!
Leerlingen mogen dus hun thuistaal spreken op de speelplaats, maar ook in de klas kan hun taal aan bod komen. Leerlingen die in groepjes in hun eigen taal iets uitwerken, bijvoorbeeld…
leesverder>>
standaard
Gerelateerd; hln>> meldt;
Vlaams Belang:"Dwaze richtlijn die integratie niet ten goede komt"
Het Vlaams Belang is niet te spreken over de nieuwe 'leidraad' van het GO!. Vlaams Belang-fractievoorzitter Chris Janssens spreekt van "een dwaze richtlijn die de integratie van de allochtone leerlingen allerminst ten goede zal komen". Volgens hem zullen "Vlaamse leerlingen in 'multiculturele' scholen het eerste slachtoffer zijn".