Eighteen people have been convicted of abusing girls in Newcastle who were plied with alcohol and drugs before being forced to have sex.
The vulnerable victims, some as young as 14, were exploited by a "cynical organisation", a court heard.
The 17 men and one woman were convicted of rape, supplying drugs and conspiracy to incite prostitution.
Over the course of four trials, 20 young women gave evidence covering a period from 2011 to 2014.
These trials involved 26 defendants facing a total of more than 100 charges and 22 victims.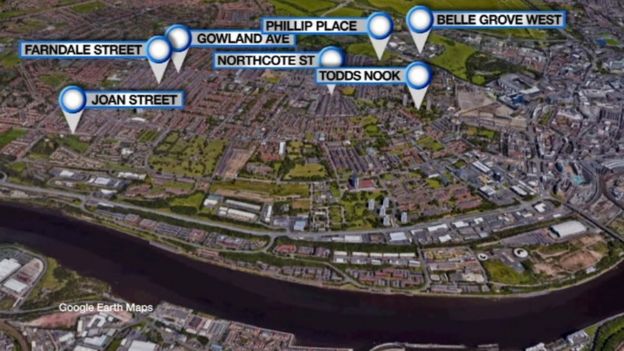 Those prosecuted were from the Bangladeshi, Pakistani, Indian, Iraqi, Iranian and Turkish communities and mainly British-born, with most living in the West End of Newcastle.
Of the 26, three people have been jailed. The rest will be sentenced next month.
It also emerged during the court process that police paid a convicted child rapist £10,000 as an informant.
The victims were at first flattered by the attention of the men who apparently befriended them, but were then lured to parties, known as "sessions", by the promise of alcohol and drugs – often mephedrone (or M-Kat), Newcastle Crown Court heard.
Bags of M-Kat were left on coffee tables for the girls to help themselves…
readmore>>
bbc
Related; independent>>
Related; breitbart>> stinsonhunter>> thesun>> westmonster>> skynews>> ibtimes>> kafircrusaders>> thesun2>> lbc>>
Operation Shelter: Police paid £10,000 to child rapist – BBC News
Operation Sanctuary – Muslim grooming gangs
Muslim Rape Gang Exposed In Newcastle | Police Pay Child Rapist Informant £10k | Grooming Gangs