Areas of Bradford, England, are No Go Zones for certain ethnic groups and the city is "heading toward disaster," councillors have warned, citing attacks on a synagogue and white businesses in 'Asian' areas.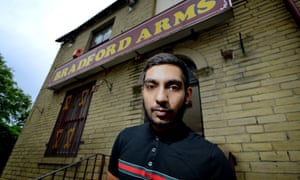 Non-Muslims — identified as white people in the British media that persists in seeing the jihad as a racial issue — are now scared in Bradford, and here we see again in the article below a failure to identify the culprits:
Another councillor, Vanda Greenwood, added that young women did not feel safe in parts of the town because of gangs of young 'Asian' men.
"Asian men" refers to the Muslim rape gangs whose activities were widely covered up in the UK.
It was reported two years ago that in Bradford "Muslims exercise cultural dominance and there have been controversies involving sharia law." A year before that, "Bradford had the dubious honor of being chosen as the UK's most dangerous city in a YouGov poll." At that time, Muslim leaders in Bradford angrily demand an apology, simply for a letter urging them to do more to root out "extremists" and stop "radicalization." The president of the Bradford Council for Mosques, referred to the letter from Communities Secretary Eric Pickles as "highly objectionable on several grounds" and said it "blames and targets the Muslim community."
The ongoing tolerance of the intolerable because of shouts of "Islamophobia" is causing the demise of once-peaceful Western communities, now described as no-go zones, plagued by extreme violence and squalor. It is not the reckless political leaders who have to endure this, but the citizenry.
"UK: Whites Scared, White-Owned Businesses Stoned in a Racially Divided Bradford 'Heading for Disaster'", by Liam Deacon, Breitbart, December 24, 2017:
Areas of Bradford, England, are No Go Zones for certain ethnic groups and the city is "heading toward disaster," councillors have warned, citing attacks on a synagogue and white businesses in 'Asian' areas…
readmore>>
jihadwatch
Also published on Fenixx.org
Related; breitbart>>
Check HERE for the UK, Bradford area riots…
---