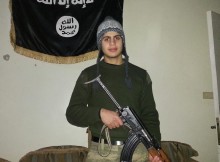 Enes Ciftci, a Danish-Turkish citizen, was sentenced to six years imprisonment, permanent expulsion and will have his citizenship revoked for going off to fight for the Islamic State in Syria.
The case marks the first time citizenship has been revoked from someone who was born and raised in Denmark and could pave the way for expulsions all across Europe.
Cifrci was originally sentenced to seven years for being a member of the terrorist organization, supported ISIS economically and for publicly supporting terrorist acts.
The Danish High Court, however, ruled that he should lose his citizenship and be expelled from the country forever, a decision backed by the Supreme Court…
readmore>>
westmonster
Also published on Fenixx.org