Dass die einzelnen NGOs in Sachen Schlepperei zusammenarbeiten, bestätigte der italienische Staatsanwalt Ambrogio Cartosio aus Trapani (Sizilien) gegenüber der Tageszeitung La Repubblica (wie Süddeutsche Zeitung, Der Standard).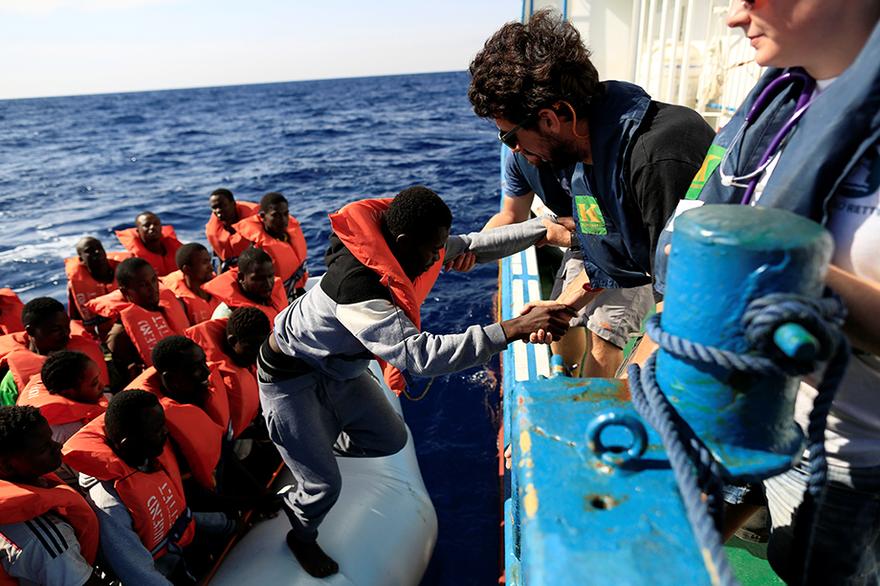 Jugend rettet "gibt, da ihr Schiff Iuventa nicht so groß ist, wir können sagen, in Empfang genommene Migranten an andere NGOs oder Militär-Einheiten weiter." Jugend rettet fungiert also als eine Art Zwischentaxi.
Italienische Behörden zwischen Pflichterfüllung und Gutmenschenjagd
Jetzt wurde ein Verfahren wegen "Förderung der illegalen Einwanderung" eingeleitet, nicht jedoch gegen die seit langem im Mittelmeer als Helfer der Schlepper agierenden NGOs,
sondern, so Staatsanwalt Ambrogio Cartosio, gegen "physische Personen", die Teil der NGOs sind. Als Staaten noch Staaten und Gesetze noch Gesetze gewesen waren, wäre wohl Anklage wegen "Bildung einer kriminellen Vereinigung" erhoben worden. Dies zeigt, unter welchem Druck sich die Gerichtsbehörde fühlt, weil das, was sie macht, nicht erwünscht ist.
Keine Seenot, kein Schiffbruch, keine "Rettung"
Die "Iuventa" der bundesdeutschen NGO "Jugend rettet", die auf Lampedusa beschlagnahmt worden war, ist in der Zwischenzeit mit vier Mann der italienischen Küstenwache an Bord aufgebrochen und Samstag im Hafen von Trapani, Sizilien, angekommen, von wo das Dekret zur Beschlagnahmung ausgegangen war.
Die Beschlagnahmung fußt auf dem Foto, das…
weiterlesen>>
unzensuriert
Also published on Fenixx.org
Beschlagnahmt – Italien setzt Schleuser-Schiff «Iuventa» der NGO "Jugend Rettet" fest
NGO ship "Iuventa" caught colluding with traffickers and arrested.
Foto-Beweis vor Libyen- Schlepper übergeben Flüchtinge direkt an Antifa Organisation "Jugend Rettet"
JF zur "Jugend Rettet"-Schlepperei (u.a.) – Junge Freiheit Flüchtlingslüge 2017 NGO-Schlepper
NGOs: kriminelle Schlepper ¦ Flüchtlinge: Keine Solidarität unter Moslems ¦ Bevölkerungsaustausch
NGOs: Kriminelle Schlepper ? TEIL 2 – Ganzer Vorfall ausführlich libysche Küstenwache vs. Sea-Watch
NGOs kriminelle Schlepper TEIL 3 NGOs SIND SCHLEPPER ¦ EU-Dokument Bevölkerungsaustausch
US Milliardär George Soros – Finanziert NGO's & Flüchtlingsströme / Migrantenströme (AVAAZ)